Rank your Internet marketing product review videos
This post is about offering you the best information regarding internet marketing product reviews that are usually done through video marketing. You can make money online just by focusing on product reviews, but only if you are able to join all the dots together at the same time.
The main difficulty will usually be lacking resources that help you in ranking your videos. Videos rank for many other reasons but the main one will always be the power of backlinks.
I have paid a high price to get where I am now, where I have an access to the best training in the niche and get in a link building and video ranking elite group. Now my main task will be focusing on coming up with a researched keyword, making a review video (Or any other video i think will be a money maker), optimising the video I am marketing and submitting it in the system.
Links will be built, video will be bookmarked, embedded and shared in the social media platforms all by the system. It is a wait-n-see game where through time (Short time usually) you will see your video surging through other videos and coming to the first page of Google. Once there, it is only a matter of tweaking few things until you get the desired result.
This is one of the videos that teaches you how to start optimising your internet marketing product reviews videos. Unfortunately, I can't share the video as you can clearly see that the video is unlisted (Highlighted in yellow). But I can give you the details in my own words. You can as well open the image in another window and see and see what the main points of discussions are. It is not something that has never been shared before, but this is a detailed and start-to-finish kind of tutorial that you will not get else where.
If you are well trained to do a proper keyword research, making a review video and optimising it, you are one step away from seeing success in your video marketing. I am not telling you here that it is just a breeze, no, there are lots of pitfalls and the competition is just out of control. Imagine doing something thousands of other marketers do…it is supper competitive. But rewarding once you get your video ranked.
These are the steps you should take to get your review videos ready for ranking;
Do a proper keyword research and come up with one that has about 500-1000 search volume and medium-low competition
I don't know about you, but I rely on a keyword tool that i think is great, Keyword Advantage (Currently not in the market). It analyses Google Adwords and gives you a colour code where you see where the keyword stands. Green is for low competition keywords where red is for competitive ones. If you don't want to use keyword tool, then I don't have any idea how you can determine the competition.
But the main point is you must come up with a reasonably low competition keyword that has a good search volume. If you are focusing new product releases, you can aim for product name + review/reviews as there will be no data in Google to its search volume.
Make the video, name it and save as mp4
Making a review video is not that hard, but could be a challenge for many different reasons. I am from a none English speaking background and have a speech problem so making my own review videos is out of question. I rely mostly on side-based videos that are not that good in convincing viewers. At times, I use Fiverr and other PLR videos to market products. After making your video you will benefit from naming it as the product you are promoting. If you are promoting "List Building Tips" then name the video listbuildingtips.mp4 and upload it.
Write good quality video description with the keyword at the beginning
Videos will benefit from having the right description in them. Don't forget to put the keyword you are targeting in the first lines of the paragraph. Let the description be at a good level of word count (200-300 or more) and insert the URL you are promoting at the top of the description.
Insert the YouTube URL of the video and other related keywords at the end of the description

I am not sure of the significance of this part but the training recommends us to do so. When doing a keyword research, you probably have found some other related keywords that are in good standing. Insert those at the end of the video separated by comma or a a list.
Put the keyword and other related ones as tags
YouTube and other video sharing sites will determine what the video is about partly by their tags. Insert the tags you believe are related to your keyword. Once you do those, your video is ready to get into the ring and fight with many other related videos for ranking.
At times I see it as something that is a bit unfair, as the more ranking power your videos gets it crushes others out of the way and get to the first page, leaving the other video authors in great sadness and loss. But that is where we do business and this is the norm of the game.
How to maximise your internet marketing review video marketing
Aiming at product reviews is always the right stand in promoting new product releases, but there are some additional tricks you can use to harness the effectiveness of your videos. You can figure it out and do a trial and error kind of tasks to see which tweaks are getting you then best return in investment. For me, it will be more beneficial to learn from someone that knows the trade well.
If you notice the graphic i posted above, you probably have noted who the trainer is. You can see that Joshua Zamora is the trainer. He is a well known internet marketer in the warrior forums and else where.
In his other training video, Joshua will take you through each steps you should take to maximize the effectiveness of your review videos. There are titles, words and phrases that have been so effective for him in the past years  while he ventured in the review video marketing niche. I will post another image of the video so that you can see what topics have been up for discussion there (Open image in a new window).
Ranking power for your review videos
One of the ranking power of every web property is the backlinks that point to that specific website. That is how the search engines measure the relevance of your website. Don't get me wrong here, SEO is such a complex science theses days that anyone can't tell you all the details needed to do it all right. But backlinbks remain to be the most determining factors of the algorithm.
Your YouTube videos need backlinks, they have to be embedded in several websites, bookmarked, shared in social media to build reputation and ranking. Where do you get those backlinks? who will be embedding your videos? If you come up with a simple solution to these questions, you are a miracle worker in the internet marketing world.
We have been told to "Spam Comment" to get backlinks and we have been endlessly trying to spread comments using bots and third party services with little to no result. The main problem is not in commenting, it is the webmasters that "Delete" the comments and the search engines that "Penalize" us for backlink spamming. There seems to be no way out. But don't lose heart, there is a better solution.
Get quality backlinks to your videos
You can easily build backlinbks to your videos using the system that is designed to give you that specific result. There are heaps of SEO guys that do exactly the same and the price tag will differ as to where you get the service. Fiverr is the cheapest place to get such a service and see the gig's testimonials before you order a package. For me, it is better to be in an elite group (Video Valet) where all link building task is handled professionally.
It is a trust thing, I mean, anything can go wrong and you may end up losing lots of money in this venture. But, if everything goes as planned, the videos will definitely rank and the return on investment will be very good. I just started out this journey and i can't yet show you my success, but there are clear signs that the videos are getting good rankings.
Other Video Ranking Services I know that could help you
There are 2 other options I would suggest you to have a look at. The first one is an affordable backlink building membership that has a YouTube marketing feature in it. In the membership area you can run social bookmarking campaigns for your blog posts and videos, in addition to that service there is a monthly membership plan that helps you get YouTube video views, shares, likes, subscriptions on a reciprocating ways. You can give this service a try by clicking the graphic below.
I know another similar service that gets you same features as above through a software. You download the software, install it and start using it. You watch others videos and get credit, then others will watch your videos. Not that useful as the views are not from real searches using keywords, but it helps to lift your view count anyway. If you want to test this software click the graphic below.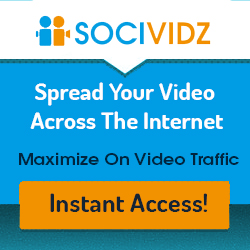 Hope I gave you the best information and guide in getting into Internet Marketing Product Reviews video marketing. If you are seriously thinking to invest in this venture, then consider doing so in the services i mentioned above. The membership i am at, where most work is done by the admin, is closed now. But the others are great tools to help you rank your YouTube videos.
I specifically recommend Socividz as i am using it often and has a huge potential to spread your video links in as many sites as possible. Hope you had a good read of this lengthy post….all the best!
If you are interested about this topic you can broaden your knowledge by reading out post on Internet Marketing Blogs and get as much resources as you can that helps you in your business. There is also another quality article on product reviews here.
Similar Posts: