Jul 28, 2017 |
Al. Aber
|
WP Content Ranker Review – Worth The Money?

I would like to let you know that I am not promoting WP Content Ranker at this post. I am rather posting a WP content ranker review, just kind of testing it.
I bought it at early bird price as i am in the product owner's list. Everything in this review is my honest personal opinion. If you have click through at this blog looking for a genuine review, then that's what you will get.
If this review helps you make the right decision to buy or not to buy, please like and share your thoughts. It would be as well a good courtesy to drop comments at the bottom of this page.
What is WP content  ranker?
WP Content Ranker is a WordPress Plugin. The plugin is designed to help you create content. Well, actually use others' content to use it as your own. It finds keywords to target. The plugin searches the web and gives you list of sites that have ranked for that specific keyword. The plugin creates a menu in the top right hand corner of the WordPress editor.
You start using this plugin my entering a keyword to search the net. WP Content Ranker then finds the top ten websites that rank for that keyword/phrase. The plugin discloses quite a lot of interesting data about those top ten sites. That information could potentially be the reason you rank for it.
WP Content Ranker shows you all the titles, headings and content of the sites it searched for. Remember, these sites have already ranked for that phrase. You can then copy  the article, image, video and use it as your own post.
But, this a little worrying as copying content from other websites is a very bad practice. You can then imagine what the plugin will do to make that content unique. Of course, spin it!
What can you do with content ranker
The plugin allows you to drag an drop both text and images onto your wordpress blog posts. You will take the best bits of content from the top ten websites. Just skim through each site and add content that you think is great. These sites' content is already ranking on the search engines. Top quality content is one of the main reasons sites rank.
But duplicate content is something that Google doesn't want to see on your site. Well, Google has notorious robots that check your content at the time of crawling. When they see that the content has already been published else where, they penalize you.
Is it really a good steal other peoples hard work?
This is entirely a moral question. Theft can't be labeled here as the content will be altered through article spinners. So, i used someone else's content to see if i can rank for "WP content ranker reeview". If i rank, which i think i will, it is a prove to you that you can buy it and use it to get profit. I personally don't want to spen lots of energy and time to rank for online business opportunities. You may ask "Why?", well it is hard to sell to people who know what you are trying to do.
If i rank for "How to get a dog stop biting" kind of phrase, visitors coming to my blog wouldn't know that i am promoting affiliate products. They just click to the affiliate link and see if there is something they want to buy. I have worked so hard in the "Internet marketing" arena for so long and what i have seen repeating itself is, you make money from those who want to make money themselves.
Well, let us end it here. There are lots of features that WP content ranker can do. It would be a vain attempt to list them all here. But see it can rank your posts by using ranking data from other sites that already ranked.
Though i am not promoting the product here, i would be very happy if you can like and share this content. I don't want to let you go empty handed. Download my free gifts below.
Summary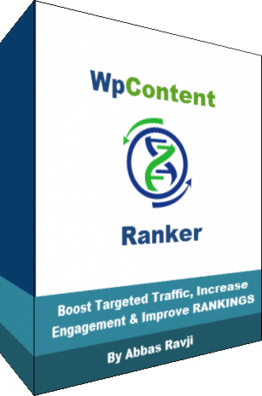 Article Name
WP Content Ranker Review - Rank in Google 2017
Description
I would like to let you know that I am not promoting WP Content Ranker at this post. I am rather posting a WP content ranker review, kind of testing it
Author
Publisher Name
Publisher Logo
Posted in: Product reviews | Tags: How Much Content To Rank, How To Rank Content Site, How To Rank Duplicate Content, WP Content Ranker Review, WP Content Ranker Review Rank in Google 2017